Custom Solutions
Customized slip rings and rotary unions to meet your needs.
Benefit from our many years of engineering experience in the areas of fluid and sealing technology as well as electrotechnical transmission technology. COSMAU offers custom designed components for specialized applications,our engineers work one-on-one with you and your team to design a custom rotary union & slip ring that best fits your needs — plus, we're well known in the industry for our fast, efficient service.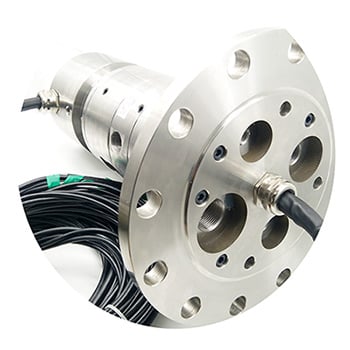 QUALITY DESIGNS & CONSTRUCTION
The process behind our custom solutions begins with 3D generated design proposals and model supply. This provides for ease of product integration prior to manufacturing approval. You'll receive a custom design review and approval to finalize fit, mounting, and port locations.
OUR CUSTOM ROTARY UNIONS & SLIP RINGS FEATURE:
Slip Rings

Mounting flange

Direction of lead wire exits

Connectors and heat shrink tube

Lead wire length

Shield wire

Transmit combined high speed data

Customize for high temperature,shockproof environment

Combined with pneumatic,hydraulic

Customize high voltage,large current slip ring

IP65,IP68 Optional

Affordable price
Rotary Unions

Mounting flange

Through hole or solid design

up to 36 passages

Pressures up to 5000 psi

Variety of porting and connection size

Variety of seal combinations, materials, and coatings

Combined with electrical slip rings

Affordable price
COS19080201

Industry: Automation, IP65 waterproof
Size: 100mm ID, 185mm OD
Current: 8x 30A + 8x 5A
Speed: 100 RPM
Material: Al alloy

COS19060208

Industry: Automation, IP68 waterproof
Size: 99mm OD
Current: 6x 10A + 12x 2A
Speed: 100 RPM
Material: Stainless steel

COS19030115

Industry: Automation, IP65 waterproof
Size: 86mm OD
Current: 2x 1000M Etherent + 4x 10A
Speed: 200 RPM
Material: Al alloy

COS19030205

Industry: Automation
Size: 38.1mm ID, 99mm OD
Current: 1x 1000M Etherent
Speed: 300 RPM
Material: Al alloy

COS19040402

Industry: Factory Automation
Flow passages: 6
Pressure: 0~50bar; Media: Water, Gas
Speed: 0~150 RPM
Material: Stainless steel shaft

COS19120305

Industry: Heavy equipment
Flow passages: 4, G1/4
Pressure: 0~300bar; Media: Hydraulic Oil
Speed: 0~100 RPM
Material: Stainless steel shaft

COS18070201

Industry: Marine
Flow passages: 4, G3/8, G3/4, G1
Pressure: 0~300bar; Media:Gas,Hydraulic Oil
Speed: 0~100 RPM
Material: All 316# stainless steel

COS19050706

Industry: Heavy equipment
Flow passages: 4, G1, 150mm ID
Pressure: 0~50bar; Media:Gas, Water glycol
Speed: 0~40 RPM
Material: Carton steel

COS19120706

Industry: Heavy equipment
Flow passages: 2, G1/8
Pressure: 0~250bar; Media: hydraulic oil
Current: 2x 300A + 2x10A + 2x5A
Speed: 0~80 RPM
Material: Stainless steel shaft

COS19110311

Industry: Factory automation
Flow passages: 1, G1/8
Pressure: 0~10bar; Media: Gas
Current: 6x 10A + 12x5A
Speed: 0~150 RPM, 50mm thru-bore
Material: Al alloy

COS19100207

Industry: Factory automation, IP65
Flow passages: 4, G1/8
Pressure: 0~10bar; Media: Gas
Current: Power + signal + 1000M Ethernet
Speed: 0~100 RPM
Material: Al alloy

COS19010308

Industry: Marine
Flow passages: 4, G3/8, G3/4, G1
Pressure: 0~300bar; Media:Gas,Hydraulic Oil
Current: Power + signal + RG59 coaxial
Speed: 0~80 RPM
Material: All 316# stainless steel